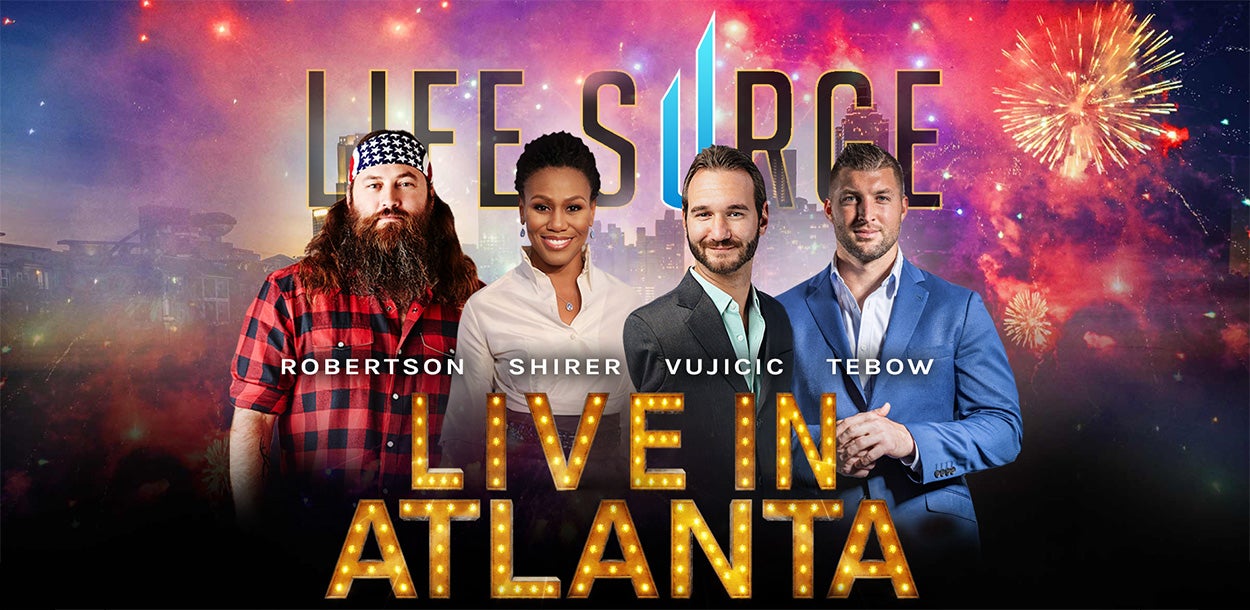 LIFE SURGE Atlanta
LIFE SURGE Atlanta
Saturday

Aug.

20

/ 2022

8:00 AM
LIFE SURGE Atlanta will take place at the Cobb Energy Performing Arts Centre on August 20. For more information please visit the official LIFE SURGE website at https://www.lifesurge.com/atlanta. LIFE SURGE events usually sell out well in advance, so purchase your tickets early to ensure you get the best seats.

LIFE SURGE is a one-day life-changing Christian experience that incorporates powerful worship combined with inspiring stories of faith and Godly teaching - specifically about IMPACT, by leveraging influence, business, and financial stewardship using tomorrow's best practices, timeless Biblical strategies, and God's supernatural power. LIFE SURGE is America's #1 Christian business event.
At LIFE SURGE you can expect to be IMPACTED and TRANSFORMED throughout the day - to keep your heart and mind focused on who God is and what HIS plans are for our lives. You can expect to be EQUIPPED with life-altering wisdom on business, entrepreneurship, and how to increase your ability to bless others.
LIFE SURGE Features, Live and In Person:
TIM TEBOW, two-time national champion, first-round NFL draft pick and Heisman Trophy winner, entrepreneur, author, and philanthropist. His drive, both on and off the field, has led him to accomplish greatness in the midst of adversity and to keep moving forward to make an impact for the Kingdom of God.
PRISCILLA SHIRER, the New York Times best-selling author of more than two dozen books. Priscilla and has had featured roles in movies like War Room, I Can Only Imagine, and Overcomer. Tens of thousands have met God in powerful, personal ways at her conferences and through her Bible study resources.
WILLIE ROBERTSON, the New York Times best-selling author of The American Entrepreneur and The Duck Commander Family: How Faith, Family, and Ducks Built a Dynasty. Willie's story is a remarkable example of Kingdom-based entrepreneurship and dedication built on hard work, faith, and family. His insights and drive were the sparkplugs to launch the innovative A&E television series Duck Dynasty, which shattered all previous cable reality TV shows ratings records.
NICK VUJICIC, world-renowned speaker, New York Times best-selling author, and entrepreneur. An Australian-American, born without arms or legs, Nick faced tremendous obstacles from life without limbs. Bullied at school, fearful and without hope, feelings of helplessness led him to attempt suicide. Nick persevered, discovering key principles that helped him find purpose – turning obstacles into opportunities.
ANNE BEILER, the founder of Auntie Anne's Pretzels. From a humble side-hustle startup in 1998, Auntie Anne's Pretzels grew from a single pretzel stand to 100 storefronts nationwide in just four years! Founded on Christian principles, today the company is the world's largest pretzel franchise with over 1,800 stores. Anne's story has inspired thousands about the power of endurance in pursuing your God-breathed vision and purpose.
And MANY MORE LEADING CHRISTIAN SPEAKERS who will share their faith-filled stories.
At LIFE SURGE, you will be TRANSFORMED by God's power. You will be EQUIPPED with life-changing wisdom, and you will connect with an exclusive, like-minded faith community. You will SURGE your life and SURGE your IMPACT on others. This is the LIFE SURGE MOVEMENT! You have never seen anything like this—we guarantee it!
At LIFE SURGE, we will share practical tools, topics, Biblical strategies, & new mindsets that will change your life, including:
Faith

Leveraging Your Kingdom Witness
Cultivating God's Favor with People
Growing Your Faith to Grow Your Business
Identify & Overcome Hidden Obstacles

Business

Revenue Grwth Strategies
Biblical Strategies for Maximizing Profit
Negotiating for a Win-Win
How to Launch Your Next Idea

Wealth

Wealth Building Strategies in Any Economy
Innovative Real Estate Investing Strategies
Optimizing Stocks & Options Trading
How to Fund Your Dream
Impact

Developing A Kingdom Mindset
Leveraging Your Calling for Breakthrough
Changing the Marketplace for Christ
How to Build for Tomorrow & Eternity