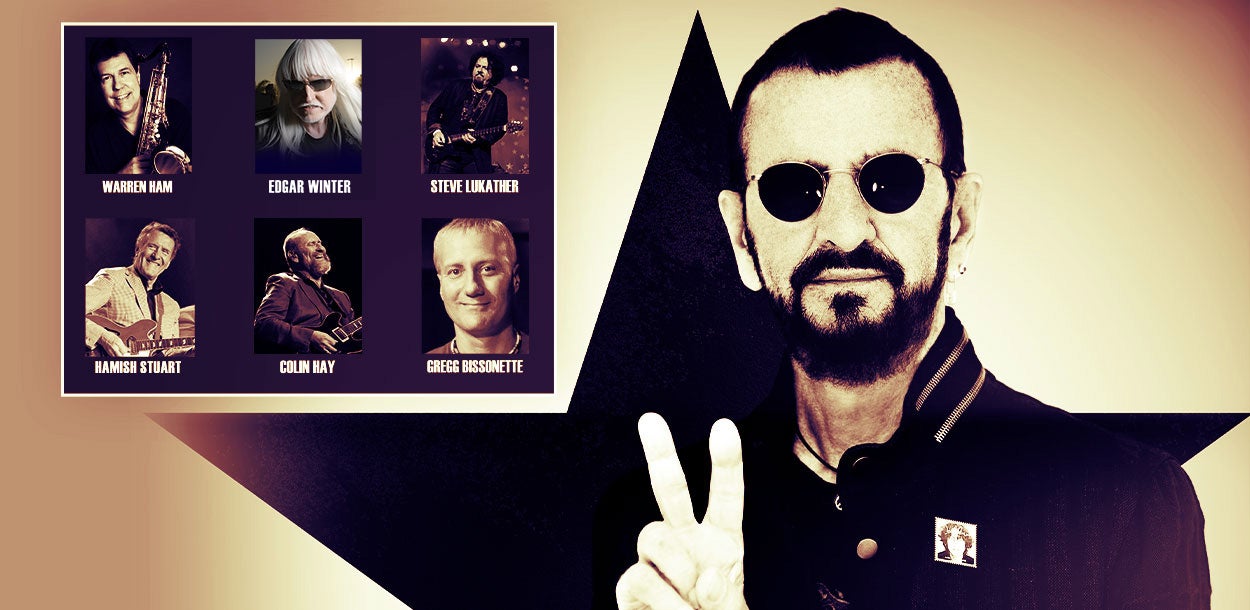 Ringo Starr & His All Starr Band
NEW DATE!
Ringo Starr & His All Starr Band
NEW DATE!
NEW DATE - MONDAY, SEPTEMBER 19

Refunds are available though July 17 if you are unable to make the new date. Otherwise your tickets for June 22 are valid on September 19.
As previously announced, these shows were initially planned for 2020, and Ringo and the All Starr Band were eager to finally get back out on the road. Almost halfway through the 22 show run, which kicked off May 27 from Casino Rama in Ontario, Ringo let audiences know on Tuesday June 7, during the second of three sold out shows at New York's Beacon Theater, that Edgar Winter had Covid, but the All Starrs would play on. However when Steve Lukather also tested positive for Covid, they were forced to stop and to reschedule the remaining 12 dates.
"We were having so much fun playing again and it was disappointing to have to stop. But we were able to reschedule these shows and add them to our Fall tour - and so as the song goes - I'll see you in September! Peace and love, Ringo."

Ringo Starr brings the North American tour with his current All Starr Band featuring Steve Lukather, Colin Hay, Warren Ham, Gregg Bissonette, Edgar Winter and Hamish Stuart to Cobb Energy Centre.
This announcement comes on the heels of the release of Ringo's 20th studio record, What's My Name. The title track is a rousing anthem written by a returning All Starr Band member, Colin Hay that turns a familiar chant from Ringo's live shows into a rousing rocker sure to be a future crowd-pleaser.

The record is the latest in a series of heartfelt and homespun records that Starr has produced in his home studio and a distinguished, ever-changing yet often repeating cast of musical characters and friends playing along with Ringo. Those friends include Paul McCartney, Joe Walsh, Edgar Winter, Dave Stewart, Benmont Tench, Steve Lukather, Nathan East, Colin Hay, Richard Page, Warren Ham, Windy Wagner, Kari Kimmel and more.

Ringo released Another Day In The Life, the third in his series of books with Genesis Publications, that follows the sell-out success of Postcards From The Boys (2003) and Photograph (2013), and features previously unpublished collection of his photographs, captioned with his own thoughts and anecdotes.