Your Safety is Our Focus
Cobb Energy Performing Arts Centre is keeping up to date with local and state guidelines. We are taking steps and implementing new policies and procedures in order to make your return to live events as safe and enjoyable as possible. Central to our commitment to patron health and safety is a staff member who is certified in infection mitigation to oversee our program and ensure adherence to these protocols.
Health and safety protocols based on current guidance from public officials and theatrical unions may be in place at the time of your performance and could require a face covering.
Here's what we're doing to keep you safe:
---
Face Coverings
Patrons are welcome to wear masks at their own discretion.

Note: Beverages and concessions may be required to be consumed in the lobby if not allowed in the theatre by certain shows. Announcements will be made at the time of your show.
---
COVID Requirements for Select Shows
Decisions regarding additional COVID protocols will be dictated by each artist or promoter. If a show adds mask or vaccine requirements they will be posted on this page and the event page.



The Atlanta Opera
The Atlanta Opera's COVID protocols can be found here.
Air Filtration System
Cobb Energy Performing Arts Centre adheres to routine maintenance on HVAC systems including, but not limited to the following:


Filters have been upgraded to MERV-13 in the air circulation systems
Ventilation speeds have been increased
Open outdoor air dampers to reduce or eliminate air circulation

---
Event Day Health Screenings
Cobb Energy Performing Arts Centre requests our guests and staff to conduct a daily health screening. If you are feeling sick (symptoms such as sore throat, cough, fever, etc.) please stay home.


---
Contactless Procedures
The Centre is now using cashless payments for ticketing, concessions and parking.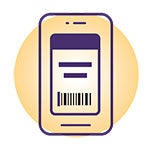 Mobile Entry allows for a contactless entry without the need of a physical ticket. The ticket taker will scan your mobile ticket as if it were a physical ticket and you're in! Paper tickets from re-scheduled shows will still be honored as needed.
---
Increased Cleaning and Sanitization
Cobb Energy Performing Arts Centre is following the CDC's Guidance for Cleaning and Disinfecting. This includes the increase of cleaning of high-touch surfaces, including seats, restrooms, and common areas throughout the theater throughout and after each event. In addition, hand sanitizer stations are available for use at entry points and throughout the lobbies.
---
Employee Hygiene and Wellness
Cobb Energy Performing Arts Centre is committed to ensuring that our facilities are as safe as possible. The following Safety First Private Event Guidelines illustrate the measures we take to help protect the health and well-being of our employees and guests:

Cobb Energy Performing Arts Centre monitors federal, state, and local public health communications about COVID-19 regulations, guidance, and recommendations and regularly updates our employees as this information evolves.
Employees are required to stay home if they are sick.
Employees will inform their supervisor if they have a sick family member at home with COVID-19.
Employees showing symptoms consistent with COVID-19 will be isolated and sent for medical attention or self- quarantine pursuant to CDC guidelines.
Employees with COVID-19 illness or exposure will not be allowed to return to work until they have met the CDC return to work criteria.
All employees who prepare or handle food are required to wear gloves and hairnets/hats while preparing food or in any food preparation areas.
Employees are required to complete thorough training regarding the updated hygiene standards and practices. The areas of training include proper personal hygiene steps to protect themselves and cleaning protocols.
Employees are required to wash their hands according to CDC recommendations, which include:

Before and after work shifts
Before and after breaks
After blowing their nose, coughing, or sneezing
After using the restroom
Before eating or preparing food
After putting on, touching, or removing face masks, gloves, or face shields.

Employees will practice routine cleaning and disinfecting of frequently touched objects and surfaces.
Employees receive regular communications advising them of any ongoing developments and the protocols the company has put in place to manage COVID-19.
---
Additional Measures Include
Encouraging patrons to wash their hands frequently with soap and warm water or utilize hand sanitizer stations.
Asking patrons to be aware of their surroundings and their personal health and the health of those within their purchase group.

COVID-19 WARNING: An inherent risk of exposure to COVID-19 exists in any public place where people are present. COVID-19 is an extremely contagious disease that can lead to severe illness and death. According to the Centers for Disease Control and Prevention, senior citizens and guests with underlying medical conditions are especially vulnerable.